Mobile Internet Trends 2019

For most of us the internet is an essential part of our lives – be it shopping, social media, Emails, videos, streaming or news – you name it. Although there are still people on our planet without access to the internet but it's becoming less and less:.

Growing Number of Internet Users in 2019 on a global scale

As you can see from this years "Digital 2019: Global Internet Use Accelerates" from Hootsuite (https://hootsuite.com/) and "We are social" (https://wearesocial.com/): In January 2019 we reached an internet penetration rate of 57% compared to the global population. Today, there are 4.388 billion people online vs. 3.288 billion people offline as you can see in following graph: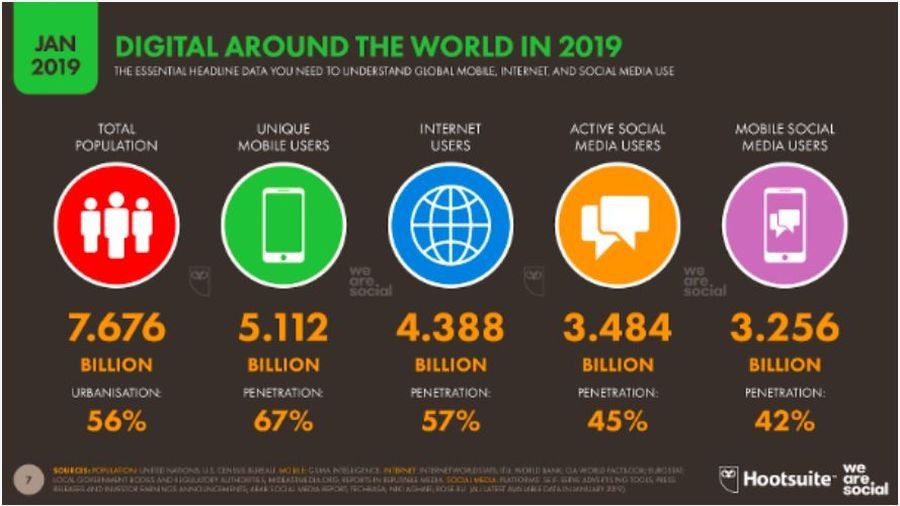 And of course, the group of people online will still continue to grow. Alone in 2018 there was a growth rate of 9.1 % compared to the previous year 2017. In absolute numbers we had +367 million people with internet access. To put that number into a perspective:

The U.S. population in 2018 (according to US Census Bureau) was 327 million
The E.U. member states population in 2018 was 513 million
The Japanese population in 2018: 127 million
The Russian population in 2018: 143 million

So, in just one year the internet penetration has grown in absolute numbers by the size of the U.S. population or 2.6 times of the Russian population. That is huge and the growth will further accelerate in the upcoming years..

Mobile Internet Usage is No. 1 in 2019 (compared to desktop and others)

Question: How do the internet population access the internet actually? According to statcounter.com and also by the Digital 2019 study people use in 50% to 52% of the cases a mobile device to browse the internet which is clearly the majority of people. Desktop computers ranks today between 46% to 48% and tablet for 3% to 4%.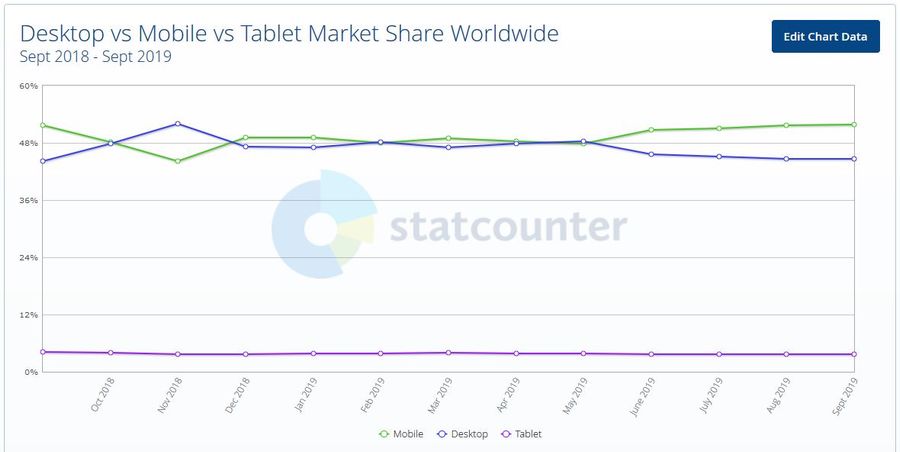 Also, the average time people spend online every day is 6 hours and 42 minutes in 2019. And again, the mobile device is the most important one since it is used for 48% of the internet time. (see below) So, from whatever angle you look like: Mobile devices are the most important device in connection with internet access & usage.
And we don't see a change in that trend: Mobile devices are getting cheaper and also the related mobile tariffs – which means that more and more people will choose a mobile device for accessing the internet, especially in developing countries. What does this mean for your own business? Are you prepared for the specific needs of rapidly growing mobile traffic?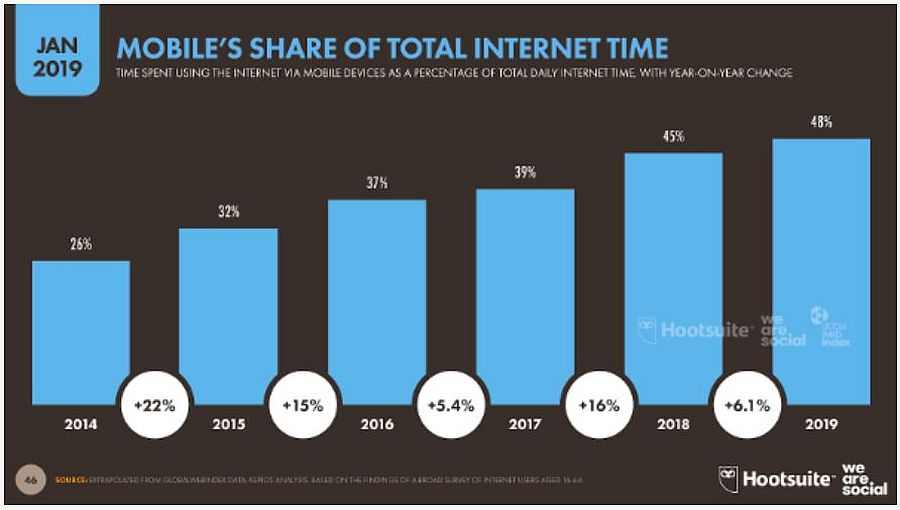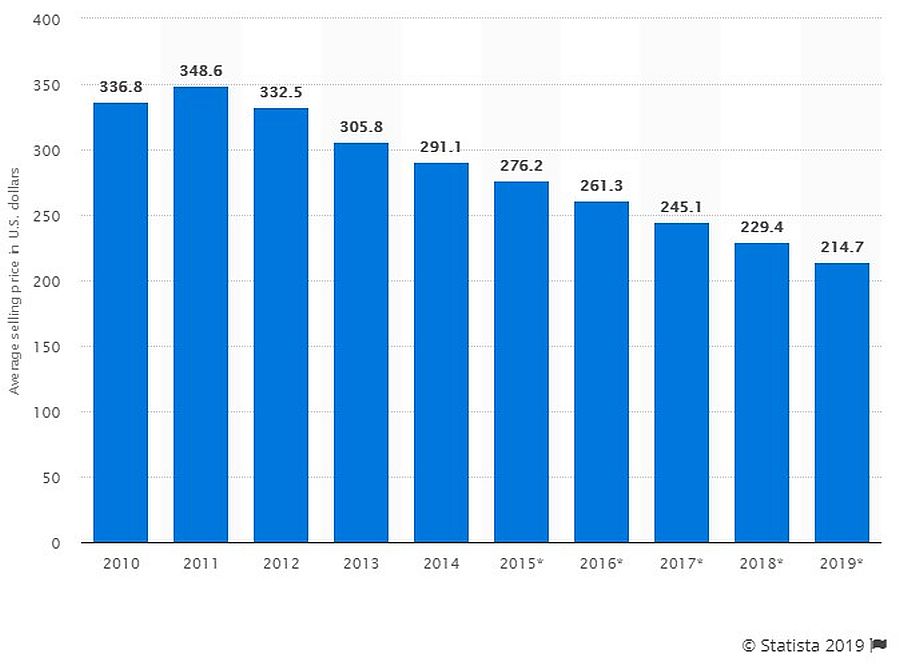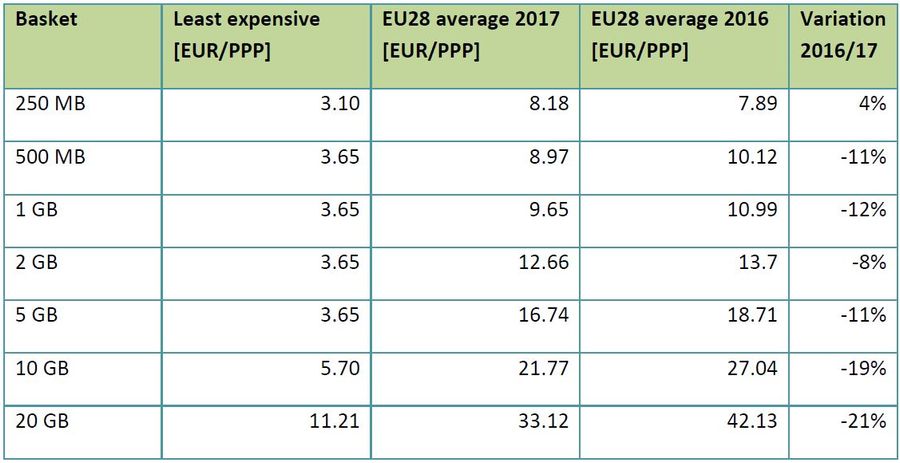 Still: Webpages Are Getting Larger Every Year – currently it is at 1,400 kb

Another important piece in this puzzle is: each year the average size of webpages is growing. Pingdom found out that an average web page size in 2018 is 1,400 kb (Source: Pingdom.com). We don't know for sure but this could also be related to growing more sophisticated video & picture content, gaming, complex coding of sites including more external resources into a web page. Whatever the reason may be, sites are getting bigger – no doubt. Which is a bit counterproductive when you put that in the context of mobile speeds as you can see in the following paragraphs. And just a reminder: 1,400 kb are the average size, meaning that e.g. shopping cart scripts or a nice, big photo could be much bigger than the average size. A direct consequence of this is an increased loading time for the mobile consumers.

If you want to see how loading times could affect your user interaction, have a look at our recent blog articles in this aspect: The Age of Speed or Managed Hosting Difference.



Mobile Download Speed Growing but still far behind fixed broadband speeds

Now, last but not least: Let's have a look on the mobile bandwidth at https://www.speedtest.net/global-index. You can see the current average download speed for mobile and fixed broadband globally, per region or even country. As of today, we have a global average download speed for mobile with 27.44 Mbps (=Megabits per second). In the U.S. it is 35.02 Mbps, in Germany it is 32.41 Mbps and Japan it is 30.74 Mbps. These are all developed countries but still the mobile speed is only half as fast as the desktop broadband speed. Now imagine how slow mobile speed is countries like Philippines (15,46 Mbps), India (10.87 Mbps) or Russia (21,04 Mbps)..

Summary of Mobile Trends in 2019

Finally, we know now that mobile internet access is already the main entry point for many people. Besides that you need to understand that that mobile users have different needs than desktop users:

resource efficient webpages due to less available bandwidth with mobile connection
as well as fast performing servers supporting a fast loading of your webpage for your audience
mobile-optimized design due to smaller screens on mobile to enable excellent customer experience

Just to make it clear, that summary is not only ours at FullSail Systems: Google's latest tools like Lighthouse or Page Speed Insights also look exactly for that. Google will rank you better if your web presence considers those mobile requirements (there is even a separate mobile ranking index) for a good reason: Google wants to be the best & biggest search engine on earth – also in the new mobile era. That is why your online presence should be prepared for growing mobile requirements.